Is online accounting better than offline accounting?
In this article we explore the features and benefits of online and offline accounting practises, based on our experience as a provider of online accountancy services. We will compare features such as security, cost, and efficiency. At Thomas & Co we have seen it all, so if you are a small business owner exploring online accountancy services for the first time, a limited company that already uses online accountancy software, or a sole trader who is just starting out, scroll down for our simple guide to online vs offline accounting.
What is Offline Accounting?
Offline accounting is accounting that uses software that can accessed without a constant network connection to complete both bookkeeping and accounting tasks. Offline accounting can be completed using spreadsheets, or even manually on paper.
What is Online Accounting?
Online accounting is accounting that uses internet based technology and software to complete bookkeeping and accountancy tasks. This can include using an internet browser, applications on smartphones or tablets and internet based software and storage.
In this easy to read guide we are going to focus on the key features of accounting software, comparing online accounting software with offline accounting software. Thomas & Co Accounting are here, as always, to help you figure out which option is best for your business.
Let's get stuck in …
Security
As we go into 2023, digital security is a normal part of our day to day lives. Whether you are protecting yourself against online hackers accessing your social media, or guarding your small business from potential data theft, cyber security should be prioritised.
Whichever accounting software you choose, that software is storing your critical accounting data. So how secure is accountancy software?
Offline accounting software is usually hosted on self-hosted servers, meaning you can ensure security by restricting physical access to trusted personnel only. Once the software is installed on a user's machine, they require a password to access it. Online accounting software is hosted on the server of the software provider, generally these servers meet a high level of security standards. For example, Xero, the online accountancy software we use, has robust physical security controls including 24/7 surveillance and monitoring. It also offers multi factor authentication, meaning you need more than just your password to access data.
A security advantage of online accountancy software is that it automatically encrypts your data, making it difficult for hackers to decipher. If you are using offline accountancy software and wish to encrypt your data you will need to do this manually and continually.
Efficiency
As a business owner, you are constantly looking for more efficient ways to run your business. As technology progresses, different software presents us with more features than ever, all claiming to streamline our working process.
Online accounting software allows you to link your bank account, making payment processing easy. You can also grant access to users who are not in the same physical location as you, such as your accountant. You don't need to think about software updates as these taken care of automatically.
Offline accounting software may require you to extract data and send via email if you need to share it with your accountant for example. There tends to be a limit on users as data can only be accessed when users have the software installed on their system. Software updates are manual and will need to be actioned accordingly.
Cost
Company directors need to keep costs to a minimum to ensure profitability. Accounting software comes at a cost, as with any software it's about getting the best value for your money.
Broadly speaking, with offline accountancy software you are looking at a large upfront payment for which you get complete ownership of all the tools provided. There is no on-going fee to consider. Online accountancy software works on a subscription model, charging a lower monthly fee for the duration of your use of the software. This could be the better option if you are worried about cash flow. At Thomas & Co Accounting we cover the cost of our clients accountancy software subscription, this is not the case with all accountants so it is worth having a conversation with your current provider.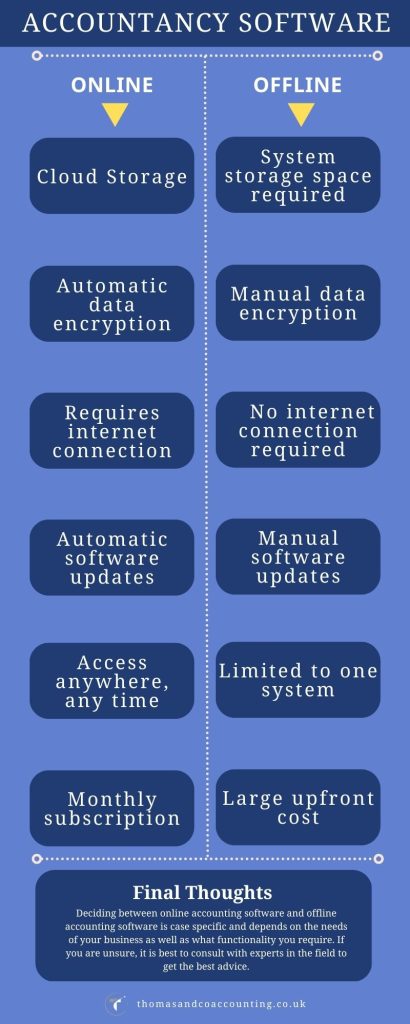 What do the experts think?
At Thomas & Co Accounting we are proud to provide online accountancy services and cloud accounting. We work with forward thinking clients who expect the latest innovations, which we provide through online accounting. Thomas & Co cover the cost of all subscription accountancy software including Xero and Dext, allowing you to seamlessly scan and store receipts without effort. If you still aren't sure about the benefits of online accountancy services, or you're looking to change your accountancy firm, get in touch and speak to one of our experienced professionals about our tailored accountancy packages.